Model Railway Planning and Construction or...
Iron Horse offer a planning and installation service covering all sizes from 'n' to 'Gauge1/Gscale'.
DEFINITIONS: Scale: the ratio between the size of the model and the full size original
Gauge: the distance between the rails (standard gauge in full size practice is 4feet 8 and a half inches (or 1435 mm). Simple mathematics will show that at a scale of 4mm to the foot for 00 the commercial track gauge of 16.5mm is incorrect despite its almost universal use. This is the reason why other specialist groups have been formed to promote the use of more accurate scale/gauge combinations than commercial 00 railways.
The following table provides a comparison between the popular scales and gauges of track: TITLE GAUGE SCALE COMMENTS N 9 mm 2mm to the foot A lot of railway in a small space 00 16.5 mm 4mm to the foot Most popular indoor scale supported by all major manufacturers 0 32 mm 7mm to the foot Can be coal fired – good for indoors or outdoors with plenty of detail G1 45 mm 10mm to the foot Ideal for garden railways G Scale 45 mm 16 mm to the foot Mostly narrow-gauge prototypes – often radio controlled
| | | | |
| --- | --- | --- | --- |
| TITLE | GAUGE | SCALE | COMMENTS |
| N | 9mm | 2mm to the foot | A lot of railway in a small space. |
| 00 | 16.5mm | 4mm to the foot | Most popular indoor scale supported by all major manufacturers. |
| 0 | 32mm | 7mm to the foot | Can be coal/Gas fired. Good for indoors and outdoors with plenty of detail. |
| G1 | 45mm | 10mm to the foot. | Ideal for Garden Railways. |
| G Scale (LGB) | 45mm | 16mm to the foot | ostly narrow-gauge prototypes - often radio controlled. |
Please not that this list is by no means exhaustive. There are bigger tracks and smaller tracks with varying scale rolling stock. You need to be wary whenever you are buying items for your railway in order to be consistent.
INITIAL PLANNING Many decisions have to be made to ensure that you finish-up with the railway you want. Location, available space, type of railway (predominantly passenger or freight), age of operator(s)………………….. the list appears endless. However following an initial planning session with one of our engineers we an make sure you can achieve the best layout possible in the available space and in the available budget. Many people start with a train set from Father Christmas.
To make sure it is not destroyed in a few weeks it should be laid on a baseboard robust enough to protect the track both when in use and in storage. There are many track arrangements available and these can be achieved using track sections from the train set plus additional track components. Sidings can be added to make operation more interesting. If starting with nothing we can advise on the most cost effective set to buy and from which manufacturer. Alternatively there is no need to buy a train set as with everything available individually you can buy items as you go along often cost effectively using mail order, starting with the track.
BASEBOARDS The next step in the process is to establish the baseboards on which the tracks will be laid. Baseboards can be fixed in place or can be dismantled for storage or transportation. Railways in the garden have a different infrastructure where track laying much like the full size railways can be undertaken.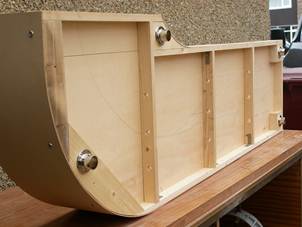 Underside of a baseboard under construction.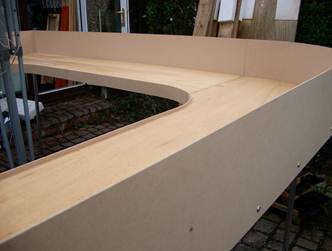 Trial fitting ready for installation.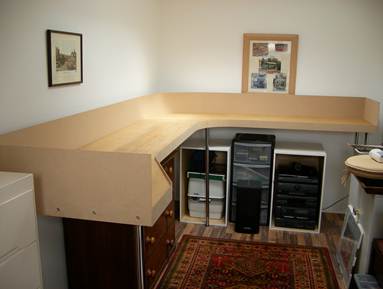 Installed in its permanent home.
TRACK PLAN The result of baseboard limitations coupled with decisions made at the initial planning stage will enable the best layout to be achieved. On a large layout undulation of the scenery, position of buildings, rivers and farms can be used to define the path the track has to follow as in full size practice. For smaller layouts however, the track plan defines these variables.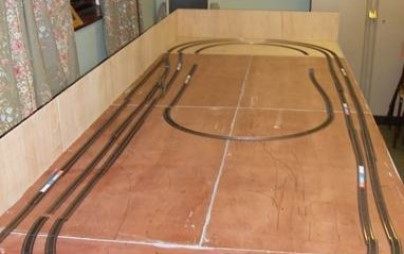 Roughing out a track plan.
TRACK LAYING Now comes the exciting part – getting the track down and trial running. With a well-thought out plan track laying is quite quick and results rapidly achieved. During this phase however, considerations of track wiring, plus accessories such as point motors, signals, lights and sounds should be thought through and their installation planned. There are many options to ballasting the track but we can offer solutions that you can adopt borne out from miles of ballasting previous layouts. Track laying in the garden has its own merits and difficulties. Consideration of flora growing next to the track along with the natural hills and valleys all have to be allowed for if a workable layout is to be achieved.
CONCLUSION All the phases so far can be undertaken by our team of engineers, or partly or wholly by yourself. Once the track is laid and ballasted, and the wiring is operational trains can be run. From this point on adding scenery, including buildings, trees, fields, and people is largely your choice. Remember we can be used as consultants to guide you or we can provide you with a completed railway. Considering all the options in between – the choice is yours.
ADDITIONAL SERVICES These services can be undertaken for you to provide completed items or additions to your railway. Alternatively we may be able to show you how in short classes at home or in our workshops. Kit assembly – plastic, resin or cardboard kits. We can build items for you, or show you how to create masterpieces of your own. Locomotives – servicing, re-motoring and DCC chip fitting. Bought a locomotive from an exhibition that does not run well, let us service it for you? We can test locomotives on our rolling roads Adding DCC chips for digital control can be difficult unless you are competent with small tools and possibly a soldering iron. Diagnosis and repair – problems getting the wiring to work, short-circuits happening, scenery lights do not come on. We can diagnose the problems for you and hopefully create a long-term fix. Rolling stock – assembly, servicing, painting and weathering services. Scenery – get the best results from a variety of materials to create grass, water, snow, fields, roads ……….. the list is endless.
LARGE SCALE RAILWAYS Large Scale Garden Railways Over the last 25 years our engineering team have installed a variety of railways in parks, estates and gardens. If you need assistance planning and installing a railway or need some renovation undertaken on an existing layout, complete the form provided and email it to us. Alternatively just email or telephone for guidance. Scale and gauge: Gauge Scale Weight of average locomotive Weight of typical train *
Minimum radius curves Recommended radius for curves
| | | | | | |
| --- | --- | --- | --- | --- | --- |
| GAUGE | SCALE | WEIGHT OF AVERAGE LOCOTMOTIVE | WEIGHT OF TYPICAL TRAIN* | MINIMUM RADIUS CURVES | RECOMMENDED RADIUS FOR CURVES |
| 3 ½" (89mm) | ¾" to the foot (19mm to the foot) | 100lbs (45kgs) | 9cwt (458kgs) | 14ft | 30ft |
| 5" (127mm) | 1 1/16" to the foot (28mm to the foot) | 2 ½ cwt (127kgs) | 18cwt (916kgs) | 18ft | 35ft |
| 7 ¼" (184mm) | 1 ½" to the foot (38mm to the foot) | 6cwt (305kgs) | 2 ½ tons (2,550kgs) | 30ft | 60ft |
| 10 ¼" (260mm) | 2 ¼" to the foot (56mm to the foot) | 17cwt (865kgs) | 5 tons (5,100kgs) | 50ft | 150ft |
* The weight of a typical train in column 4 includes the weight of passenger carriages plus passengers.
On a level track a 3 ½" gauge locomotive can be expected to pull 4 people comfortably.
On a level track a 10 ¼" gauge locomotive can be expected to pull around 50 passengers.
Gradients make a tremendous difference to the amount of weight a given locomotive can pull. Gradients, both up and down, add tremendous interest to a railway and can enable a longer track to be accommodated if tracks have space to cross at different heights.
The choice of scale and gauge is also complicated by the decision as to whether the track is to be laid on the ground or raised enabling sit-astride rolling stock to be used. This is quite a common option in the two smaller scales.
Project Planning and feasibility
Before laying any track a survey of the available grounds will be necessary in order to establish feasibility of radii and gradients and to establish a working plan of the line. From this plan we can establish material lists and an overall budget for the track.
Track laying
A sound, well drained track-bed is key to the long-term survival of the sleepers and rail. Where laid on soil a 6" (150mm) deep bed is excavated and scalpings laid on a porous membrane to form the bed. The track panels are then laid onto this with the addition of limestone or similar chippings around the sleepers. As part of the track planning removal of the excavated soil will be considered and where possible incorporated to form new cuttings or embankments.
Infrastructure
Infrastructure items such as sidings, platforms, loading areas, turntable, ash drops as well as engine and carriage sheds will also be planned at an early stage and constructed as funds allow.
Options
Contact us with your ideas and we will provide you with a free on-site consultation and feasibility report for your proposals.
Locomotives There are many locomotives handed down within families to individuals with little or no knowledge of how to maintain or use them. Contact us for a comprehensive service of renovation, repair and re-painting. We can provide guidance and formal training on locomotive maintenance and for driving steam locomotives.
Carriages and rolling stock
Often the last items to be considered for a layout comfortable, stable passenger carriages are essential to minimise derailments and to provide enjoyment for all passengers. We can construct sit-astride, sit-in, covered and open carriages plus a selection of goods wagons in the common scales and gauges.
Signals
For the enthusiast working signals are a worthwhile addition to any layout. Lattice, rail-built and tubular post semaphore signals and LED colour light signals can add an effective operational capability to any layout. Vehicular driveways can also be made safer with the use of crossing lights and bells.